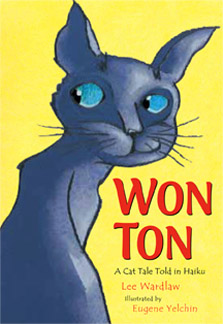 Author: Lee Wardlaw
Illustrator: Eugene Yelchin
Publisher: Henry Holt
Publication Year: 2011
Location: Knox County Public Library- Powell
Awards: NCTE Notable, Myra Cohn Livingston Poetry Award, Lee Bennett Hopkins Poetry Award, CCBC Best Book, ALSC Notable, School Library Journal Best Book,
Summary: This is the story of a cat rescued from a shelter, told entirely in haiku. The people name him Won Ton and then he gradually becomes part of the family. He claims the house and explores the yard and ultimately claims the boy as his own. At the end, he announces that his real name is Haiku. The illustrations perfectly capture the realities of being a cat.
Classroom Ideas: Great example of senryu (like haiku only not about nature) that never panders. The story is perfectly told.